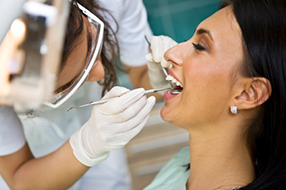 If you have any missing teeth, then our Los Angeles tooth replacement dentists will help you restore your mouth to a full smile using new teeth to fill in the gaps.
Tooth Replacement Options
There are a few different ways to replace missing teeth in your mouth depending on various factors.
Dental Implants
Dental implants are the most popular option today because of their unmatched ability to mimic real teeth in function, form, and appeal.
They also happen to be very durable – meaning they last a very long time provided you take proper care of them like you would any other tooth. We offer single tooth and multi-tooth dental implants.

Dental Bridge
A more traditional approach that is cost-effective, dental bridges aim to literally "bridge the gap". This procedure utilizes false teeth to fill in the gaps, which are used in conjunction with surrounding teeth for support.
Implant-bridges are also a possibility if your surrounding teeth are not strong enough to support a traditional bridge. In this case, a dental implant is used to help support your bridge.
Dentures
This option is great for those who have multiple missing teeth; otherwise your best options are dental implants or dental bridges. Dentures can be made using dental implants as well.
How Do I Know My Best Option?
You will not fully know what option is best for you until you have a face-to-face consultation with our tooth replacement dentist. By understanding your needs and budget, Dr. Ganji will be able to recommend the best option specifically for you.

If you have questions, concerns, or inquiries regarding our options to replace missing teeth, then please do not hesitate to call the Ganji Dental at (310)643-8045.