Cosmetic dentistry is a broad term used to describe the various procedures in dentistry that are used to craft a beautiful smile. People of all ages undergo cosmetic dental procedures in order to enhance their smile and boost their self-esteem.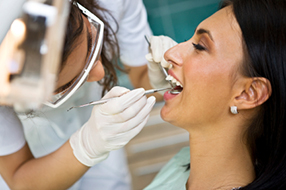 Modern dentistry has given rise to increased technological advancements that make certain procedures more affordable, as well as much less painful. Dr. Ganji and his skilled team will recommend the best treatments for you, depending on both your budget and the state of your current oral health.
Brighten Your Smile With Teeth Whitening
A popular cosmetic procedure, teeth whitening is often thought of as something that can be performed at home using various whitening kits, gels, etc. While this is true, the results often take awhile and sometimes no results are even seen. Dr. Ganji can perform a painless teeth whitening procedure in his dental office where you will see results before you walk out of the door. A professional in-office teeth whitening will leave your teeth several shades whiter – often times in only one visit depending on how stained your teeth are.
Porcelain Veneers
Veneers offer a way to straighten your teeth, while providing a way to whiten them. Porcelain veneers are carefully crafted from a laminate substance and then directly applied to the surface of your teeth. They are able to mask a variety of minor problems such as chips, crooked teeth, or discolored teeth. In addition to enhancing the aesthetics of your teeth, veneers offer a way to protect the surface of your teeth from damage.
Dental Implants
Implants have grown tremendously over the years, as both dentists and patients are beginning to see the man benefits they offer. Dental implants cover a wide range of problems, but are meant as a way to replace missing or severely damaged teeth. They are currently one of the most durable and functional ways to replace teeth.
Cosmetic dentistry also includes: inlays, onlays, dental bonding, dental crowns, and dental fillings. Add a little shine back into your life by contacting Dr. Ganji's private dental practice @ 310-643-8045 for more information on the cosmetic dentistry procedures we offer.