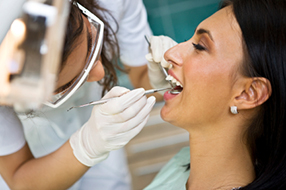 Does your smile cause you great anguish or shame?
Do you feel embarrassed by your smile?
Are you tired of looking at your smile in the mirror?
Are you ready for a dramatic change to your smile?
If you answered yes to any of the above, then you are an excellent candidate for fixing dental gaps between your teeth. Dr. Ganji can completely transform your smile into something you did not even believe was possible.
Our teeth are one of, if not, the first things people notice about us when we smile. This makes our smile very important for first impressions. Unfortunately for those with gap-tooth smiles, people may be quick to judge us on a trait we did not have control over as we grew.
Now that you're older, you have the option to correct your gapped teeth with advanced dentistry procedures!
Gap tooth smiles are not all corrected in the same manner. Every patient is different with different needs, meaning the way we fix your gap tooth smile may be different from another patient's case.
Typically, most gap tooth smile patients receive a combination from different procedures that include:
Long-lasting porcelain veneers
The use of orthodontic appliances (i.e. Invisalign® braces)
Precise dental bonding

Porcelain Veneers Before and After
Los Angeles Gap Tooth Smile Specialists
Both Dr. Sam and David Ganji are specialists at correcting a gap tooth smile that has plagued patients for most of their life. Unfortunately, it is not an issue that will magically resolve itself on it's own.
The first step begins with feeling the need to take action. If you're tired of your gap tooth smile and you want to see how we can help you fix it, then please contact our office @ 310-643-8045 today for a personalized consultation.