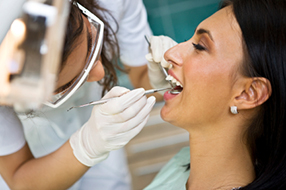 A dental veneer is a thin piece of porcelain (
can be resin composite also
) that is bonded to specific teeth in order to enhance its cosmetic appearance. They also add strength and give your teeth a fresh, new look!
Veneers are a Quick Way to Cover Up Small Tooth Imperfections
Dental veneers are an excellent solution for quick fixes to a variety of tooth imperfections:
Discolored teeth due to staining.
Chips and other noticeable damage on teeth.
Uneven, misaligned teeth.
Gapped teeth.
These are the most common treatments that dental veneers are fully capable of restoring. They have even more uses, but generally if your issue is more severe, then an alternative treatment solution will be advised.
Certified Lumineers® Dentist 90250
Both of our dentists, Dr. Sam and David Ganji, are certified Lumineers® dentists. Lumineers® are a brand of dental veneers that offer ultra-thin wafers – more thin than traditional porcelain veneers.
Lumineers® offer many great benefits:
Minimally invasive – no shots or anesthesia needed.
No temporaries required.
Last for roughly 20 years.
Contact Us Today
If you are interested in learning more about dental veneers, their cost, and benefits over other procedures, then please call our office @ the location closest to you or complete our simple, convenient online form. We'll get back to you as soon we can!