The Beauty of Invisalign® Aligners
Many of us feel embarrassed with traditional metal braces as they unfortunately tend to appear unattractive in many scenarios. On top of this, traditional metal braces often require more special maintenance such as altering your oral hygiene routine. They can also cause much hassle by interfering with certain foods and activities (i.e. sports).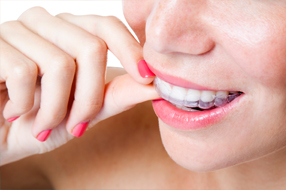 Dr. Ganji understands the importance of a straighter smile that leads to favorable impressions, but also knows how uncomfortable it can be to wear metal braces for over a year. This is why we only offer Invisalign – because it has been proven a safe and effective way to straighten teeth.
What is Invisalign?
Invisalign is an alternative braces treatment to correcting, and straightening our teeth. Invisalign can correct many dental or orthodontic issues, including overcrowded teeth, widely spaced teeth, crossbites, overbites and underbites.
The best part about Invisalign is the fact that the aligners are not only clear (invisible aligners), but removable as well. This eliminates the need for hassling around with traditional metal braces. It also helps eliminate most of the fear that is associated with receiving braces.
With Invisalign, patients can live their lives worry free and focus on what matters most. All that is required from you is a trip to your dentist roughly every 2 weeks to change out your aligner. Each new aligner will be tighter and tighter, gradually shifting your teeth over time. The amount of time varies from person to person and depends on multiple factors. Some patients are able to finish their treatment within a year.
Straighter Teeth Starting Now
Ask Dr. Ganji today about the benefits and advantages that Invisalign clear, removable aligners have over traditionl metal braces. Schedule an appointment today to see if you're a perfect candidate for Invisalign by contacting us @ 310-643-8045, or by contacting us online.