The Most Scientifically Advanced Method To Replace Teeth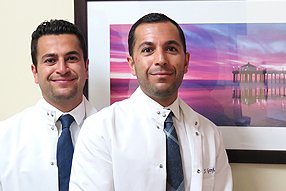 Dental implants are considered one of the best ways to replace missing teeth. Dental implants are the preferred choice of replacement of teeth because they are highly durable (they can last a lifetime if you take care of them!), and resemble the look and feel of a natural tooth better than any of its alternatives.
Dental implants are typically the recommended choice following an extraction of any tooth as a way to replace it. If you need several teeth replaced, then complete or partial dentures may be a more efficient option. Implant-supported bridges are another option for those looking to replace a row of teeth.
"Doctors David and Sam Ganji are the absolute BEST, I was in the process of having 3 Implants done, but Dr. David assured me that I was in great hands!"

Mary A. - Redondo Beach, CA
The Procedure
Before receiving a dental implant, Dr. Ganji will have to examine your mouth and make absolutely sure that you have a jawbone that would be able to support one. After this has been decided, the next step involves placement of a titanium post into the slot of your mouth. After the titanium post has been carefully inserted, you may need up to several weeks (8-12 weeks) to allow the site to heal. You may be given antibiotics to help prevent infection as the site heals.
A dental implant receives it's durability from the natural bonding process that occurs during the healing process. What happens is that the titanium post will actually fuse to the bone, making for a strong bond.
After the site has fully healed and the titanium post has successfully fused to the bone, you will then need a dental crown to top it off. An impression is made of your tooth, which can then be cemented onto the titanium post using an abutment that is attached to the post. The end result is a shiny tooth that looks and functions like a normal, healthy tooth.
Read more about dental implants on our FAQ page.
"I am so pleased with how my smile looks with the addition of my new dental implants.Now I'm more confident since getting these implants in."

Susan R. - Sacramento, CA

Dental implants will restore the shine to your mouth, giving you an artificial tooth that does not look artificial in any way. You probably won't even believe it's an artificial tooth.
Just because it's an artificial tooth doesn't mean you should neglect it. You will still be required to brush and floss regularly as you would with any tooth – real or not. Contact Dr. Ganji today @ 310-643-8045 or fill out our convenient online form to learn how you can benefit from a dental implant.
Why should I consider dental implants?
Many patients who are missing teeth have a difficult time eating and often feel uncomfortable when they smile. These are just two of the main reasons you should replace your missing teeth. However, when patients have missing teeth, their mouth may begins to shift in order to compensate for the empty space. The missing teeth can also give the impression that you are older than you really are. Titanium Dental implants are currently the most technologically advanced method to replace your missing teeth and give you the confidence to smile and eat your favorite foods.
Am I a good candidate for dental implants?
If you are one of the many people suffering from missing teeth, dental implants can help restore the smile and confidence you once had. At Ganji Dental, we have treated every type of situation with implant dentistry. Many of our patients are relieved to find out that their case is can successfully be treated with dental implants. Dr Sam and Dr David offer quality care in the most modern and professional atmosphere. To learn more, please take advantage of our free consultation. See why our patients in Los Angeles have come to expect the highest caliber of service.
How does the procedure work? How many visits does a dental implant require?
Currently, the American Dental Association approves dental implants that are made of titanium to replace missing teeth. During the implant placement appointment, the titanium implant is positioned directly into the lower or upper jawbone by Dr. Ganji. Over the course of four months, the implant begins to osseointegrate into the surrounding bone, making it durable to support the abutment and crown. Through out the four month healing process, a temporary stay plate can be utilized over the implant site. The temporary stay plate can help with eating and smiling during the healing process. After four months, after the implant has osseointegrated, an impression is made to create a custom porcelain crown that sits on top of the implant abutment. The custom porcelain crown is made to match the shape and shade of your existing teeth.
What are the advantages of dental implants over dentures or a dental bridge?
Titanium dental implants can be utilized to restore a confident and beautiful smile. However, esthetics is only one of the benefits of replacing your missing teeth with titanium implants. Serving as a fixed prosthesis, titanium implants are permanently placed and can last a lifetime.
Titanium dental implants are vastly superior your over all dental health than bridges, since your your natural teeth are unaffected. Prior to the advancement of implant technology, bridges and dentures were once commonly used to treat the loss of several teeth. However, a major shortcoming for these out dated options is that they require support from adjacent teeth. By placing this unnecessary pressure on the adjacent teeth, many times they can break or become damaged. However, titanium dental implants placed in Ganji Dental, does not sacrifice your adjacent teeth because they rely on your jaw bone for for support.
Since titanium dental implants osseointegrate into your jaw bone, they prevent gum recession and bone loss that are often associated with dentures and bridges. The dental implants at Ganji Dental that we provide are permanent, so they do not move around like removable dentures, causing gum irritation and trouble eating certain foods.
Is the treatment painful?
One reason that we all try to avoid the dentist, is the fear of discomfort. However, most patients are usually surprised to find that the pain associated with titanium dental implants to be very mild. More importantly, patients claim that the results are always well worth the recovery process. Titanium dental implant surgery can be accomplished with either local or general anesthesia. Many patients find it less stressful to be asleep while having their implants placed. During your free consultation, Dr. Ganji can discuss if sleep dentistry is suitable for you.
How will I feel after the treatment?
While every patient's case is unique, recovering from titanium dental implant placement occurs in a series of stages. With your new titanium dental implant, continuing proper oral hygiene is very important. For the titanium dental implant to properly osseointegrate with the jawbone, it must remain bacteria free and clean. When properly cared for, dental implants can last a lifetime.

During the first week after the placement of the titanium dental implant, the mild discomfort and sensitivity will gradually decrease. It is common to experience bruising, inflammation and minor bleeding after the placement of the titanium dental implant,. To ensure success and proper healing, it is imperative to follow Dr Ganji's follow up instructions after your titanium dental implant placement.

Healing time differs for each patient. Healing time is dependent on difficulty of the implant placement, the number of implants placed and the patients ability to maintain proper oral hygiene at home. Your recovery time frame will depend on each individual's unique case and treatment plan. After the titanium dental implant placement, it is important to schedule follow-up appointments with Dr. Ganji, so we monitor your recovery.
If you have any questions, please feel free to contact our office at 310-643-8045.
How will I care for my dental implants?
Titanium dental implants function mimic natural teeth and require the same thorough dental hygiene care. It is important to brush and flow two times a day, in order to keep your titanium dental implant clean and plaque-free. Scheduling periodic follow-up visits so Dr. Ganji can monitor your titanium dental implants and its surrounding teeth and gums is key to maintaining it's longevity.