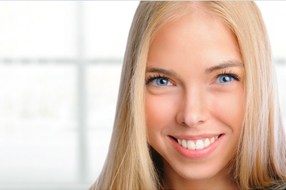 "Smile makeover" is a trending term used today to describe a variety of cosmetic procedures that all have the same goal: to completely transform and revitalize the look of your smile.
What Does a Smile Makeover Consist Of?
A smile makeover for one person will not be the same for another. There are no set procedures for a smile makeover or full mouth restoration. Rather, consulting with our Los Angeles smile makeover dentists will give you the recommendations necessary to receive the celebrity smile you seek.
 However, most people typically undergo these procedures during a smile makeover:
Teeth Whitening
Dental Veneers
Dental Implants
Dental Crowns
Gap Tooth Correction
Gummy Smile Correction
Why Should I Receive a Smile Makeover?
First Impressions Matter
It's true – first impressions matter. Guess what people have a tendency to notice first when they see someone new? Their smile! As more and more people begin to recognize this they are turning to cosmetic dentistry to fulfill their needs. You can really impress someone with a nice, whitened, attractive smile. In some cases it could be the difference between landing the job or not!
Confidence Booster
When you see your new smile in the mirror for the first time – you'll be shocked in a good way. You'll feel like a new person. As a result, you'll inevitably gain more confidence and a huge boost to your self-esteem. Confidence is an important aspect of life we need in order to excel and stay one step ahead.
Smiles Are Contagious
If you smile at someone, chances are they will smile back: smiles are contagious. When we aren't happy with our smile, then we hide it from everyone else. A smile makeover is a great way to break this habit and allow you the confidence to smile more than you ever have. When we smile often, we feel better about ourselves – especially if the smile is returned!
Ready For a New Smile? Start Your Journey TODAY!
Are you ready for a life-changing smile makeover? You can start your journey by calling the office nearest you for more details or to schedule a consultation with our dentists:
Or you can simply fill out our convenient online form here.